Consumer Electronics store footfall and consumer insights
Sherlock AI analyzes the footfall happening in all the major consumer electronic stores in Bangalore & Mumbai and understands the brand affinities of consumers visiting these stores. Here is a 3 minute read on some of the most-amazing insights Sherlock AI was able to decipher by going through consumer behavior of hundreds of thousands of people who went to a consumer electronics store in the month of October, 2022.
Check out the detailed interactive consumer knowledge graph here to see the affinities of consumers visiting particular electronic brands.
Brands analyzed by Sherlock AI:
Did you know that Croma is positioned towards more premium consumers than Reliance Digital?
Reliance Digital is a brand which has an affinity with all of the major electronics stores and brands. Be it consumer durables or mobiles, consumers of all brands have a higher brand affinity to Reliance Digital as well!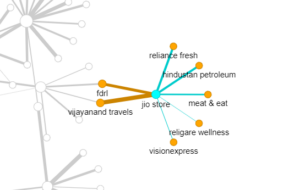 It's interesting to note that there seems to be a high segment of people visiting Banks and Financial institutions before/after visiting Croma outlets! It's also interesting to note that People who go to Croma, also have a tendency to go to Reliance Digital stores as well!
Reliance' other consumers (Fresh, Smart) also have a high tendency to visit Reliance Digital suggesting a strong affinity and branding within the Reliance brands.
Has Xiaomi finally elevated itself to a 'premium' position?
Though Oppo and Vivo are considered 'mass' brands. Xiaomi ranks among the premium & mass-aspirational category!
What really blows our mind is that the Sony and Xiaomi's consumer base also has significant overlap! Though 'market-pundits' have been considering Xiaomi to be mass aspirational and Sony among the premium brands, Xiaomi's consumers tend to have a high brand liking towards Lacoste, Arrow, Peter England, SuperDry (all considered premium brands in general)!
Though Xiaomi's consumer base seems to be affluent, it's curious to see no overlap between Xiaomi and Samsung/ Nokia consumers!
It's interesting to note that LG & Vivo are considered to be mass brands
And that brand-wise, Samsung and Nokia have a high overlap of consumers. In fact people who have been to Samsung showrooms also have a tendency to visit Nokia's and vice versa!
Samsung & Social Gen-Z
Samsung also has a highly 'social' consumer base. Right from consumers who have affinities to hospitality brands such as Radisson, the consumers have a high tendency to visit malls and theaters suggesting a millennial and GenY heavy audience groups who have a high social nature and spend considerably on entertainment.
The all-brand electronic retailers
Did you know that among the other consumer electronics retailers, Adishwar has a premium clientele? The consumers who walk into Adishwar have affinities to Jack & Jones, Samsonite, Skechers & even Ferrari! Interestingly, people walking into Adishwar, also have a tendency to go to Xiaomi showrooms!
Though Adishwar's consumer base have premium tendencies, Pai International and Girias have middle class consumer behavior with low-branded consumer affinity and tendencies to visit discount stores.
Reliance Digital, the first thing which comes to consumers' mind when they think of electronics?
What's most interesting is how Reliance Digital has positioned itself as the 'one-stop-shop' for all the products! Sherlock AI's analysis deciphers a shocking connection that consumers who shop at any of the big consumer electronics retailers (Croma, Adishwar, Girias, Pai International) have a big brand affinity towards Reliance Digital and have visited it in the past. Does this mean that Reliance Digital is an automatic consideration when people are buying consumer electronic items and want to compare prices at different shops? Sherlock AI believes so!
The Mobile Shops:
Among the prominent multi-brand stores, Sherlock AI finds that consumers of Sangeetha Mobiles and Univercell have a strong overlap. Interestingly, consumers of Sangeetha Mobile prefer ethnic and home-grown brands whereas Univercell consumers have affinity towards global brands and relatively premium brands as well.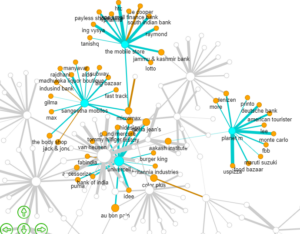 As an overall consumer consumer electronics store, Sherlock AI finds an amazing insight that, people going to these stores have higher tendencies to visit Banks and Financial institutions than normal people! Definitely not a causation, but a strong correlation 🙂
So, if you are planning OOH advertising ,getting a billboard or other BTL activations, do it outside BFSI buildings!
Do you want to understand your consumers at an outlet level- where they live, what they do for a living, what is their spending capacity, income level, how long they stay at your store, and what other brands they have affinity to and whether they have visited any of your competitors? See how Sherlock AI helps in precision targeting consumers here and how it helps with store level insights here
Get help from the world's best detective, Sherlock AI which analyzes consumer insights like no other! Schedule a call with us to understand more and implement it for your business.